TOURISM IN THE AREA
THINGS TO SEE
THE MILDNESS OF ANJOU : THE LEGEND HAD BECAME REALITY AND WILL REVEAL YOU PLENTY OF SURPRISES
The legend of the 'Douceur' (meaning mildness or softness) of Anjou is a reality but you can still uncover plenty of surprises!
Some examples of places to discover:
THE CHATEAUX

Anjou offers an enormous variety of castles, manor houses and seigniorial residences (1200 edifices)
Anjou has around 1200 chateaux, fortified castles and historic manor houses
The chateaux of Anjou were originally houses for the aristocracy to live in. Some of these residences are still occupied and the most beautiful of them are open to the public.

Castle of Angers :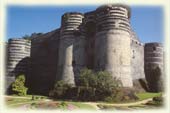 This fortified castle with its formidable walls hides a unique treasure – the Apocalypse Tapestry, a woven masterpiece.

Château royal d'Amboise .

Château de Villandry

Château de Chenonceau

Château de Saumur



Other famous castles can be visited such as SAUMUR, MONTREUIL BELLAY, BAUGE, BRISSAC, MONTGEOFFROY, MONTSOREAU, LE PLESSIS MACÉ...etc


ARTS AND RELIGIOUS EDIFICES
Royal Abbey of Fontevraud (french site)
"Prieurale" of Cunault
Church "Notre-dame des Ardilliers" of Saumur
There are plenty of very nice typically French churches that you can visit in Anjou such as the one in the village of Brion.

MUSEUM

TROGLODYTES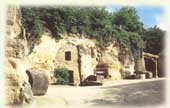 Troglodyte village in Rochemenier
The incredible underground world of Brézé
Stone and Light of Loire in Saint-Hilaire and Saint-Florent
The Monks cave ("la cave aux moines") in Chenehutte
The sand pit ("la sablière") in Doué la Fontaine

VINEYARD TASTING

Anjou, the land of sweet nectar...

Wines of Anjou and Saumur :
Savenières
Anjou coteaux de la Loire
Anjou
Cabernet d'Anjou
Anjou villages
Coteaux du Layon
Quarts-de-Chaume-Bonnezeaux
Coteaux de l'Aubance
Saumur Brut (english site)
Saumur Champigny
Coteaux de Saumur (english site)

NATURE
The Anjou area has a navigable network that is one of the prettiest in France.
You can visit the Sailing Club of Saumur (french site) for more details.
Welcome on board: Tour by "toue" and "gabares" (local family boats) on the Loire river.
Zoological gardens
The Rose Paths ("Les Chemins de la Rose") in Doué la Fontaine. Splendid raised park of 6 hectares, planted with more than 6000 rose trees.

SAUMUR: CAPITAL OF THE HORSE

The Cadre Noir is the famous National School of Equitation at Saumur.
Discover the world of the horse - watch the Cadre Noir display team in action and visit the shops and saddlers. International events are held throughout the year in show-jumping, dressage, eventing and vaulting.
You can find any further information about a stay in Pays de la Loire on Belvilla website.